Care for Caregivers 
---
Subscribe to the Joni and Friends Ministry Podcast
---
If you are a caregiver, you are not alone…
Just look at the numbers: Across the United States, nearly 53 million people serve as caregivers to family members, friends, and others in need of care.
And an estimated one in five Americans serves as an unpaid caregiver to a family member. Put another way, almost every person will need to serve as a caregiver in some capacity for a season, if not most of a lifetime.
So why do caregivers feel alone?
On call around the clock, often without pay, caregivers can experience discouragement, burnout, and isolation. Just ask Rebekah Dowhy, whose mother was diagnosed with multiple sclerosis (MS) the year she was born.
"From day one, I was familiar with what it meant to be a caregiver and have a family member living with a disability," says Rebekah.
While she treasured every day she got with her mother—even in her later days, which included changing bedpans and tending bedsores—Rebekah experienced the deep difficulties that often come with caregiving, especially over long periods of time.
As she says: "My physical, mental, and spiritual health suffered tremendously in seasons of burnout and depression. Our finances and time were directed to Mom because she needed it the most. The relentless nature of disability forced us to continually pour from an empty cup with no way to recharge our energy.

Although I had a relationship with God and loved my mom, at times I felt so alone, hopeless, and tired. Relief only came when kind neighbors and friends would give a few hours of their time to sit with my mom so I could run errands, do necessary house chores, or go on a walk to get some fresh air."
Providing Care for Caregivers
"Carry each other's burdens, and in this way you will fulfill the law of Christ."

Galatians 6:2
After years of caring for her mother, eventually seeing her home to heaven, Rebekah founded the Caregiving Support Network to provide caregivers with Christ-centered respite, community, and encouragement.
"God placed the idea of the Caregiving Support Network on my heart when I was still caring for Mom around 2015. I knew other caregivers had to be facing the same hardships and joys, and was compelled to tell them that they were not alone. Through God's providence and grace, the Caregiving Support Network was founded in 2022."
What do caregivers need?
When asked this question, the majority of caregivers point to one critical unmet need above all others: respite. Respite can take many forms—time to run errands, a chance to get out of the house, the opportunity to get a haircut.
"You'll often hear people in the workplace say, 'Oh, I can't wait for the weekend. I can't wait to relax and take some time off and then come back to work refreshed.' Well, for caregivers, there is no such thing as a weekend, or often even a day off, or even an hour off. And so we founded the Caregiving Support Network to practically meet that need by giving them the ability to take that time off while knowing that their loved one is safe and cared for," says Rebekah.
While respite care is a good start, many caregivers also benefit from other kinds of practical help. If you are a caregiver, or looking to support a caregiver, think about requesting (or providing) hands-on help, such as meal preparation or assistance with cleaning or yard work.
Bring the church to them!
For caregivers stuck at home, Rebakah encourages churches to meet caregivers where they are. "Bring the church to them," she says. Because every caregiver needs to know the core truth: "You are not alone, even though you may feel like it."
Through the Caregiving Support Network, Rebekah and her team stay in touch with a whole community of caregivers, praying for their needs and providing Gospel-centered encouragement.
And reflecting on her own caregiving journey, Rebekah recalls a key voice that spoke to her and lifted her spirits in dark moments… "God sometimes permits what he hates to accomplish what he loves," says Joni Eareckson Tada. This phrase stuck with Rebekah, lifting her up and restoring her hope in the Lord.
"But those who hope in the Lord will renew their strength. They will soar on wings like eagles; they will run and not grow weary, they will walk and not be faint."

Isaiah 40:31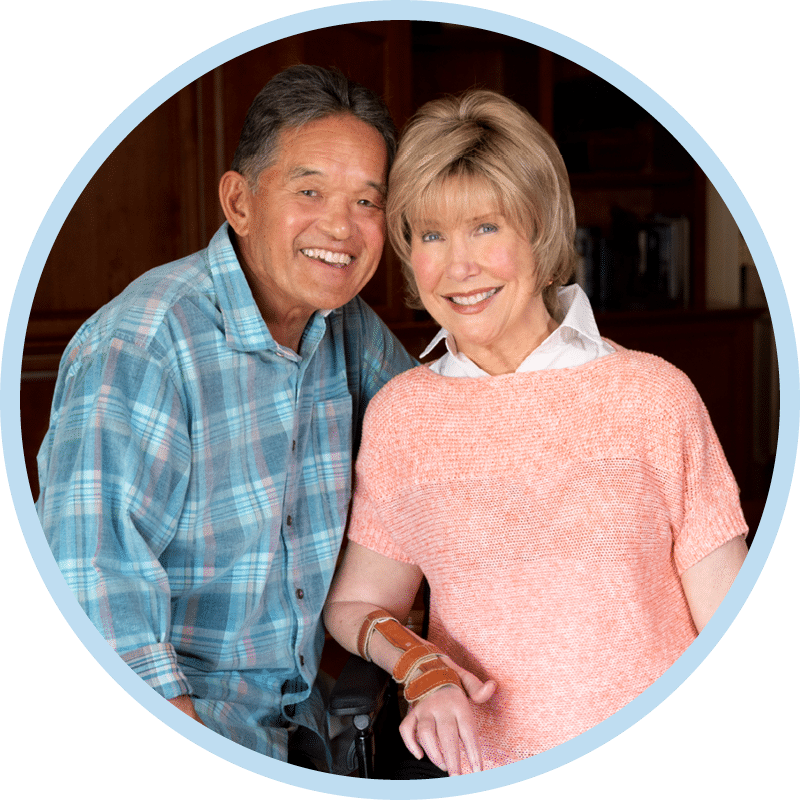 Ken and Joni Eareckson Tada share what has sustained them through more than four decades of caring for Joni through quadriplegia, chronic pain, and multiple bouts with cancer.